About us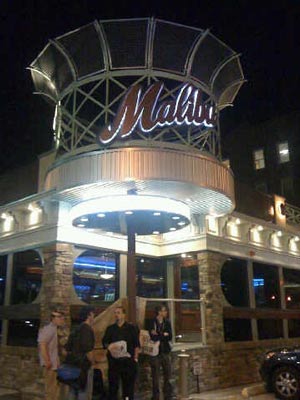 The Malibu Diner has always been the perfect place to find classic American diner food, regardless of the time of day. Our menu features hundreds of made-to-order, delicious items in addition to daily specials offered by our head chef. We serve breakfast, lunch, dinner, late-night fare and even alcohol. Our bar is open Monday - Saturday from 6am to 2am, and Sunday from 11am - 2am.
Our spacious dining room can accommodate intimate meetings or large groups. If you're running a bit behind, you can phone or fax in your order ahead of time. We also now offer off-site catering. Our property offers ample on-site parking (very rare in Hoboken!) and an on-site ATM. Rest assured that you will never find our doors closed. Come in, join us, and share in the history.
Our History
The historic Malibu Diner first opened its doors in the late 40s and has always served as a local landmark. Hoboken has evolved from an industrial town to more of a residential area. Similarly, around 1980, we transformed from from a local grease spoon diner to a modern full service restaurant. Just as Hoboken has retained its proud spirit, the Malibu Diner has retained its heritage as a classic American diner.